India election 2019: The debunked fake news that keeps coming back
In the lead-up to the vote, there have been vigorous efforts by fact-checking organisations and social media platforms to debunk misleading information or misrepresentation.
These efforts are a first step, but it's clear that false information is still being spread.
Reality Check looks at some of the misleading rumours that have persisted during this election campaign.
Sonia Gandhi and the Queen
A false story that has been widely shared on social media claims Sonia Gandhi, the Italian-born leader of the main opposition Congress party, is richer than the Queen. But the story was debunked six years ago.
In a country where income inequality is a highly emotive issue, inaccurate stories about levels of personal wealth, particularly of politicians, can be highly damaging to reputations.
The story has its origins in newspaper articles dating back to 2012.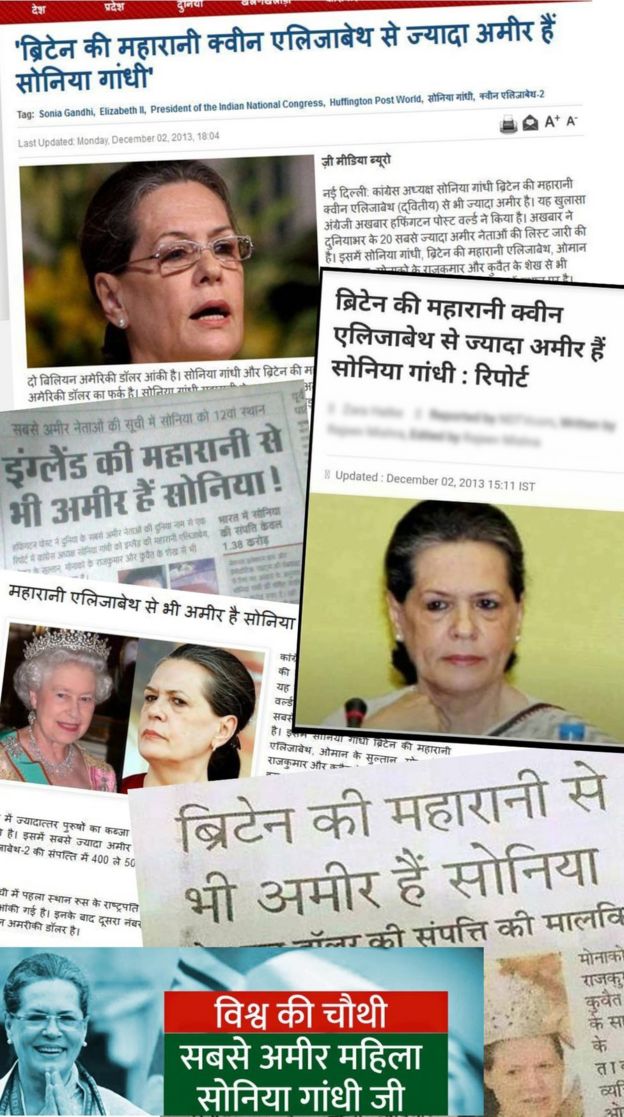 And the Huffington Post published a rich list of world leaders that included Sonia Gandhi in 2013, but later removed her name after the amount they said she was worth was called into question.
Mrs Gandhi declared assets worth 90 million rupees (around £1m) during the last elections in 2014. Estimates of the Queen's wealth are far higher.
But the story has still been widely shared during this election campaign, including by a spokesman for the ruling BJP.
Separately, Mrs Gandhi has also been the target of posts that claim to show her as a young woman in photographs in glamorous settings, with comments questioning her moral standards.
But the photographs being shared are of famous Hollywood actresses and are nothing to do with Mrs Gandhi.
Narendra Modi at school
Another widely shared story concerns the educational qualifications of the current prime minister.
The son of a tea-seller in Gujarat state, Narendra Modi makes much of his modest upbringing and it plays well with many of his supporters.
He says he succeeded in completing undergraduate and postgraduate degrees.
A video in circulation, however, apparently featured Mr Modi saying he hadn't studied beyond high school (10th grade). It has been shared by Congress supporters.
But the video is just one part of an old interview in which Mr Modi makes clear his higher education qualifications were attained through external exams after leaving formal schooling.
The shorter, misleading video clip, despite having its context clarified, is still circulating on Facebook, Twitter and YouTube.
The surveys that weren't
The spreading of fake opinion surveys and non-existent awards are particular favourites on social media.
There was a story doing the rounds for quite a while that the UN's Educational, Scientific and Cultural Organization (Unesco) had named Mr Modi as the world's best prime minister……..Read More>>
Source:- bbc
Share: